Garden City Community Building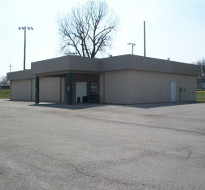 The Garden City Community Building was built in 1990, a true community effort between the City of Garden City and area residents. The 40 by 80 foot building was constructed with monies from the Missouri Department of Economic Development, fund-raising efforts and private donations.
The Community Building is available for rental on a daily basis through City Hall. Many family reunions, receptions, parties and meetings are held there each year. The building has a capacity of approximately 150 persons, with a full kitchen, restroom facilities and piano available. It is within walking distance of the City Park, Aquatics Center and Baseball fields.
The Community Building received a generous donation from the Estate of Miss Zara Boals, a longtime resident of Garden City. These monies have been used to make improvements to the building, so that all Garden City residents can be proud to use the Garden City Community Building.