City Hall of Garden City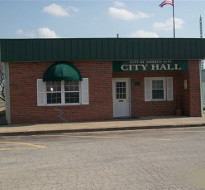 The City of Garden City constructed the current City Hall in 1972 and began employing permanent full-time and part-time personnel. Currently, the City employs nine full-time and four part-time and six seasonal staff. City Hall is open Monday through Friday and personnel are available 24/7 for any emergency situations.
City Hall is the place to go to for water & sewer payments, building permits, dog licenses, boat permits, fishing permits and general information about Ordinances pertaining to our City. Staff members are dedicated to serving the citizens of Garden City and do their utmost to enhance the lives of those living in our community.
Contact Information
107 N. 3rd St.
Garden City, MO 64747
Phone: (816) 862-8208