Garden City Aquatics Center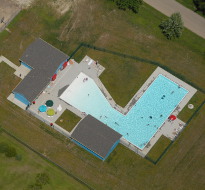 The residents of Garden City conducted a needs assessment in April of 2006. The survey and assessment gathered information from the citizens regarding amenities and other necessities that were important to the residents. A committee made up of committed individuals began an all out effort to plan an aquatics center. Through this committee's dedication and hard work, their dream of a new Aquatic Facility became a reality on May 24th, 2008. Committee members were as follows: Jill Jennings, Tom Johnson, Kevin King, Dave Larcom, Shannon Leslie, Amanda Schrock, Sandy Schrock, and Peggy Wade.
The Aquatic Facility has been in operation since that day and is a seasonal outdoor pool. The facility consists of concessions, shower and changing rooms, and a 4,000 square foot pool with a zero depth entry. The pool operates from the months of June to September. The facility is staffed by professionally trained life guards that ensure the safety of the occupants. The staff also assists in maintaining the facility and ensuring smooth operations of the everyday business.